Welcome back to Analysed, our detailed analysis of what is happening in the world of Bitcoin and beyond.
Analysed: 30th May – 13th June 2020
With the world in upheaval and uncertainty all around, Bitcoin stood firm as a strikingly stable asset. Though the tail-end of this fortnight began to offer a rather stark prediction for weeks to come.
We live in an incredible world – stock markets reaching all time highs as protests and riots break out around the world, Robinhood investors out-perform hedge-funds and the Bitcoin continues a trend of being less volatile than the S&P 500. Peter Schiff even made a good point. Anyone could confidently say these are signs of the apocalypse.
So pack your survival kit and read on for even more in this edition of Analysed.
Bitcoin Market Summary
Continuing the previous fortnight's trend of consolidation, Bitcoin did not fly us to the moon. Despite consistent testing of the magic $10k USD barrier, it did not stay consistently breached.
Towards the end of this fortnight, several sharp rallies to the $10,000 USD barrier occurred and then collapsed within minutes., effectively puncturing the positions of market traders both long and short.
Closing out the week, Bitcoin's price dropped down to $9,300 USD ($13,600 AUD) on the 12th of June, coinciding with the open collapse of US markets (as will be discussed below).
On Tuesday 9th, London-based investment firm ETC Group announced an exchange-traded product known as the Bitcoin Exchange Traded Crypto (BTCE) to become the world's first centrally cleared derivative crypto asset; listing it on Deutsche Borse's Xetra market.
With exchange rates rising in favour of the AUD (currently trading at $0.69 USD), Australians have strong buying power despite calls of encroaching deflation.
Traditional Market Overview
US markets seemed to continue their renaissance period for most of the fortnight – with the NASDAQ breaching 10,000 for the first time in history and S&P 500 reaching 3,200. Robinhood traders were swimming in profits as institutions seemingly missed out.
Fed Chair Jerome Powell offered commentary on Wednesday 10th, highlighting the potential for a second COVID-19 outbreak and 1.5 million additional jobless claims in the week prior. This brings total jobless claims in a 12-week period to upwards of 44 million. The effects of this hit markets on Thursday 11th – the S&P 500 erasing a massive portion of it's gains dropping 5.89% to 3002, while the DOW lost 800 points. This represented the 4th largest point loss in S&P 500 history, only beaten by the March collapse.
More stimulus was announced shortly after, and markets stabilised. I doubt the printers get enough time to cool down these days.
In a sign of the times, Germany has joined the money printing wait line. Chancellor Angela Merkel has greenlit a stimulus plan exceeding $145 billion USD. Economist Holger Zschaepitz (@Schuldensuehner) noted that this brings Germany's total fiscal help (including guarantees) to 38% of their 2019 GDP. Zschaepitz offered solid, disbelieving commentary – "We're all Keynsians now!".
It is worth watching the major European banks in coming months, especially if the deflation narrative plays out as expected. EU lawmakers seem to be pondering capital relief in relation to sovereign debt.
Investor Preston Pysh (@PrestonPysh) offered several insightful opinions regarding the current market this fortnight, with perhaps the most interesting beginning on fiat monetary inflation: since 2008 the Fed has expanded their balance sheet from $0.8 trillion to $7.1 trillion; 21.9% annual inflation.
Pysh delves down the rabbit hole of why this is not reflected in CPI statistics, identifying Fed manipulation of markets via bond purchases and an inability to get money to consumers (see M2 Velocity vs. Supply in our previous edition of Analysed). The thread is worth reading its entirety, as a summary hardly does it justice.
Pysh also highlighted a pretty startling statistic: If you measured the S&P 500 in Bitcoin over a 4 year period the S&P is down -89%, and down -26% in 2020 even though we are barely halfway through.
Australian markets remained quite unexceptional beyond their mirroring drop on Thursday.
Watch this space, especially as we approach August.
Headlines
Leaked Pentagon Wargame Highlights Bitcoin
Effectively a simulation of potential attacks against the United States, wargames have been dime-a-dozen since World War 2 subsided. This 2018 scenario acquired by The Intercept offers a rather startling revelation buried amongst mainstay tropes.
The first portion of this revelation is the inclusion of "domestic, Gen-Z rebellion" due to a perceived lack of opportunity amongst other factors. The scenario notes that the initial rebellion evolves into a "global cyber campaign to expose injustice and corruption". It goes without saying that this wargame is rather timely.
However, the real bones to this is the attribution of Bitcoin as a tool against state control. In the scenario rebels use Bitcoin as a means to convert fiat-based currency and then distribute it amongst the population to combat income inequality.
Such an admission and acknowledgment is a massive symbolic accomplishment for Bitcoin as it all but confirms the value proposition. If plans have to be made around Bitcoin, that means that it works.
Retail Traders Sing Robinhood Praises
This past fortnight has brought about some situations that practically defy belief – the foremost of which is how a company that barely just declared bankruptcy shot up more than 850% before collapsing again.
The aforementioned company, Hertz, went from a share price of $0.56 USD on the 26th of May to a peak of $5.53 on the 8th of June. Hertz have now been given approval to issue more shares. The Motley Crew described it as "a nightmare".
The insanity does not end there – just look at nearly any stock regardless of financial status and you'll find a similarly logic-defying story.
Dave Portnoy (@stoolpresidente) seems to think it's the easiest game he's ever played, exclaiming "I'm just printing money," Portnoy said. "Why take profits when every airline goes up 20% every day. Losers take profits. Winners push the chips to the middle. … I should be up a billion dollars.".
This was all prior to Thursday.
If history is any indicator, institutional investors are lining up at exits to hand their bags to all of the retail investors coming in. I'll leave it to you to look into that further.
Highlight Of The Week
The Vivek Podcast #10 ft. Aleks Svetski
Amber's own Aleks Svetski (@AleksSvetski) joins Vivek Sen to discuss a variety of pressing topics including Bitcoin maximalists, blockchain and the role of money and state.
A particular highlight comes when the topics of gold – Aleks asserts that in today's digital landscape "the requirement to have a physical representation (of money) falls away", effectively undercutting its value proposition. The biggest problem presented by gold is its inability to scale while retaining sovereign security, leading to historic accumulation by the likes of Florentine banks, central banks and governments.
You can steal physical gold and physical fiat quite easily, but good luck with finding a physical Bitcoin.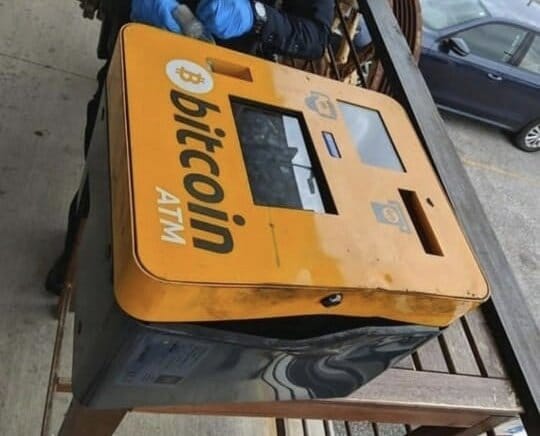 You can listen to the full podcast here.
Final Thoughts
Despite our gentle ribbing of him, Peter Schiff left us with some strong parting words regarding the US – "It took the nation 210 years to run the National Debt up to $2 trillion. It took exactly 2 months and 2 days to add the most recent $2 trillion."
Stack Sats and take care,
Jamie Grohman for Analysed by Amber.